YCAFT: The voice of part time faculty at Yuba Community College District
News:
07/09/2020 Schools and Communities First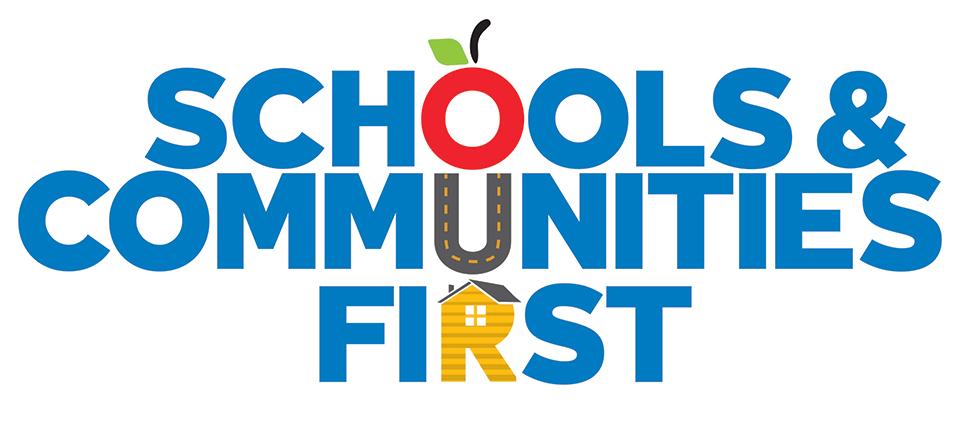 Get to the know the California ballot measure that will bring in $12 billion of additional funding for our schools and communities.
---
Tell Congress to pass the HEROES Act! Invest Now to Get America Safely Back to School and Back to Work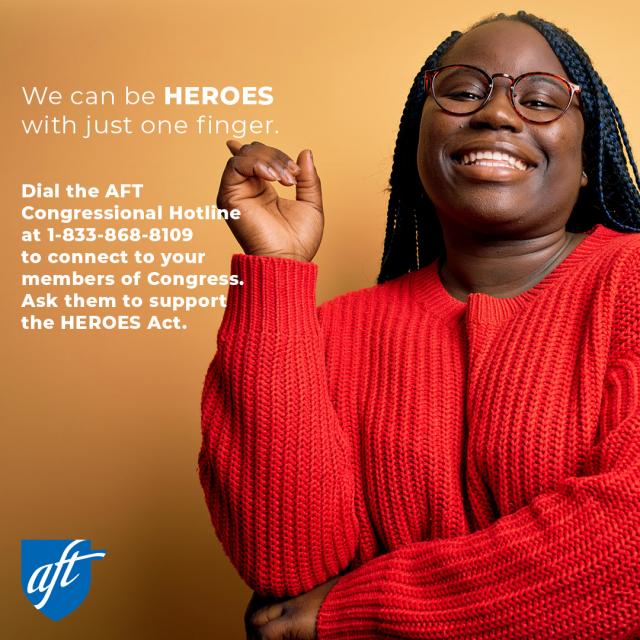 ---
06/25/2020 2020-21 Budget Summary Final
To: CFT Executive Council, Local Presidents, Formula Funded and Staff
From: CFT Legislative and Research Departments
Re: Topline Overview of 2020-21 Budget Deal

On Monday, June 22, 2020, the governor and legislature reached a compromise on the 2020-21 budget. Currently, the legislature is debating the main budget bill and a series of budget trailer bills, which provide additional details. The legislature is expected to approve the budget by Friday, June 26, 2020. Once passed, the governor has until the end of June to sign it. The budget will go into effect on July 1, The CFT will provide a full analysis of the budget once the governor signs it. Below is a brief summary of the budget bills we expect will be signed next week. Given the fact that the tax deadline has been postponed until July 15, we expect to see adjustments to the budget that the governor signs… Continue reading here.
---
Unemployment Information Session
Hello all part timers!!
Thank you to all of you who made it to our first time ever ALL YCCD YCAFT meeting. It was great to see your faces!
All the materials from yesterday are posted there under the COVID19 tab. The results from the faculty safety survey are also there.
If you have been asked to teach F2F this summer and you are not comfortable with the COVID protection measures that the district is planning to make, you have choices.
You are an at-will employee. You can turn back your offered class, even if you have already agreed to teach, with very few consequences.
You cannot be fired for turning down work.
YCCD has no problem canceling your class when THEY want to do so. And they will continue to do so.
If you do not have another job, you can apply for unemployment and get up to $1050 per week. Under the rules for this summer, you can say you have no work because of COVID, if you do not feel the district has provided enough protection for you or your students.
You do not have to have a COVID related reason to get the extra $600 when you file for unemployment this summer.
You will still be on the seniority list next summer. You still have to be offered classes next summer whether you teach this summer or not.
Use our filing for unemployment guide on our website,
If you feel you are putting yourself at risk, sit this summer out.
If you want to teach your F2F, use every precaution you can think of and stay safe.
If you summer class is cancelled file for unemployment right away. $1050 a week is worth the effort. Use the guide on our website.
Stay safe. In solidarity, Elaine Robinson,YCAFT President
---
Calling All Unit Members!
Hello everyone,
AFT is in the middle of a call campaign to try and contact everyone in the unit. We would like to check in on your transition to distance learning, make sure you have the latest information about what is going on in the district, and collect up-to-date contact information so we can keep in touch.
---
05/07/2020 We're here to serve and support union members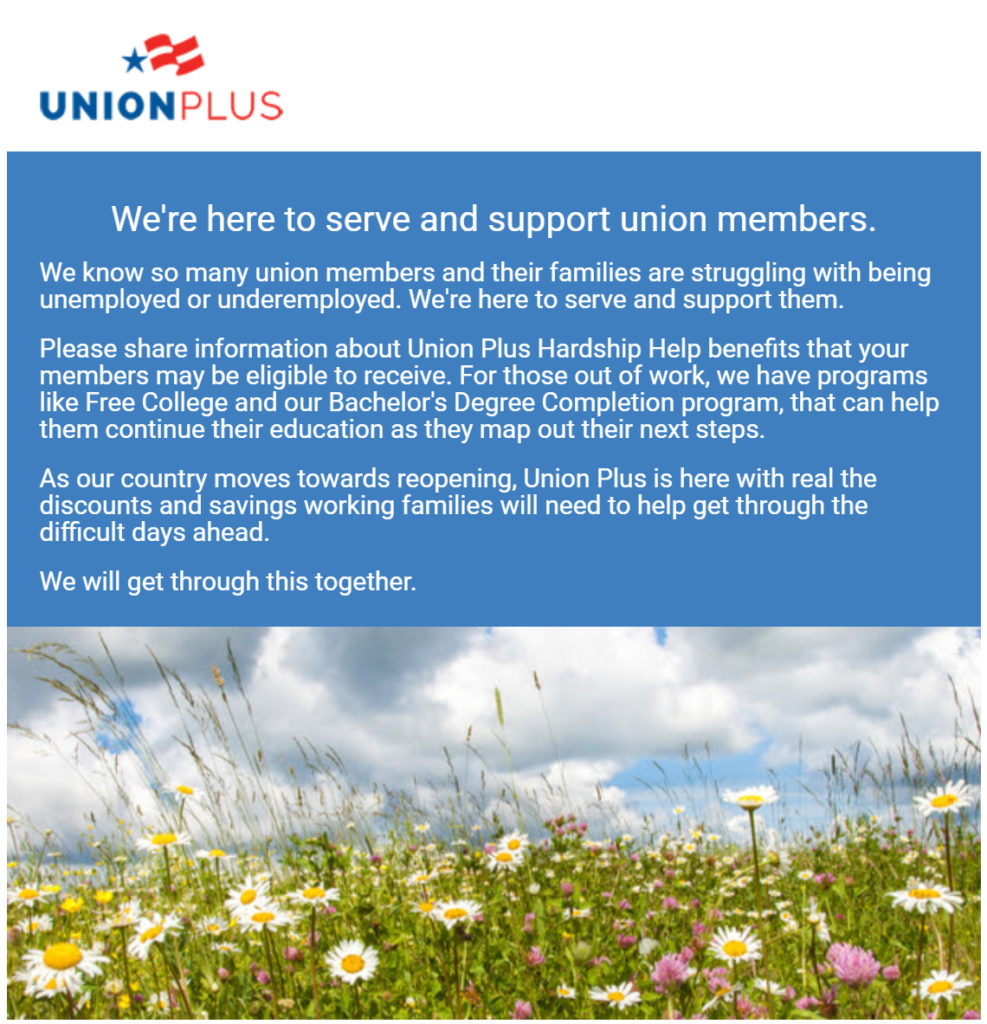 The Union Plus Digital Toolkit
Important Resources for Your Members During This Challenging Time
The May Digital Toolkit will provide you with digital resources to share with your members, including Union Plus Hardship Help Benefits, and the real discounts and savings they need will need as we all struggle during this difficult time.
These valuable resources are here for you to share on your union's website, via email and/or on your social media.
Union Plus Hardship Help
We're here when you need us.
Participants in our Union Plus Mortgage, Credit Card, Personal Loan, or supplemental insurance programs may be eligible for additional hardship assistance through our Mortgage Assistance Program or other Union Plus hardship assistance programs.
---
04/20/2020 AFT Training Opportunities
The trainings below are open to all interested members of AFT local unions.
Legal Updates: Parental Leaves for Education Workers
Tuesday, April 21, 2020
4:00pm – 5:30pm
Members frequently ask how to prepare for childbirth or adoption, and which laws and programs provide benefits. Are school employees entitled to the leave and pay provisions of FMLA and CFRA? How do members know if they're eligible for disability benefits, and under which plans? What are my rights to child-bonding leave? What benefits are common in union contracts, and how do members coordinate all of these benefits with the employer? Join one of our attorneys to find out how it all works and provide the answers your members need.
Unemployment & Underemployment During the COVID-19 Pandemic
(click on time slot below to register)
Wednesday, April 22, 2020
Are you losing your job (or losing hours) as a result of the current pandemic? Is someone in your household unemployed or underemployed? In many cases, you may be eligible for benefits you're not aware of. Unemployment benefits have been significantly expanded as a result of the CARES Act and other recent laws, and we'll cover important changes members need to know about. This workshop will also demystify the process of applying for unemployment benefits. Learn about requirements of the Employment Development Department (EDD) and the step-by-step process when applying for benefits. This workshop will benefit anyone facing reduced, cancelled, or unscheduled work in the present and near-future, and those whose households include people experiencing loss of work.
Finding Relief from Student Debt
(click on time slot below to register)
Thursday, April 23, 2020
Is student debt still weighing you down in the current crisis? There may be a way to find relief! The recent federal CARES Act provides significant relief from your student burden, at least on a temporary basis. And if you work for a public institution or for a nonprofit, you may already qualify for public service loan forgiveness. Learn what's changed to relieve the student debt burden during the current pandemic. We'll also share how to qualify for loan forgiveness, how to make your payments manageable, and how we can work together to address the student debt crisis in California.
When you register to attend a webinar, you will receive email confirmation of your registration directly from Zoom. The email will contain the link to join the videoconference from your PC, Mac, iOS or Android device, as well as the phone number if you choose to call in for your audio. You will also receive a helpful email reminder from Zoom one hour before the webinar begins.
You can learn about and register for all CFT training opportunities at www.cft.org/training.
Additional relevant training opportunities through other organizations are provided on our website at https://www.cft.org/webinars-zooms.
---
03/22/2020 COVID-19 MOUs
MOU COVID-19 20200321–4 hours paid for moving the first F2F online then 1 hour for each additional class moved.
MOU COVID-19 EVAL 20200322–puts all spring evaluations on hold.
---
01/10/2020 We have a new CBA (contract)!
Hello all YCCD part time faculty,
The Board of Trustees ratified the CBA (contract) last night at the board meeting.
Last night the union members ratified the CBA (contract) at Union meetings.
We have a new CBA (contract)!
HR is working on the retroactive payments that should be paid within 90 days.
If you have any questions, feel free to email me.
In solidarity,
Elaine Robinson
YCAFT President
---
About AFT:

The American Federation of Teachers, an affiliate of the AFL-CIO, was founded in 1916 and today represents 1.7 million members in more than 3,000 local affiliates nationwide.
Five divisions within the AFT represent the broad spectrum of the AFT's membership: pre-K through 12th-grade teachers; paraprofessionals and other school-related personnel; higher education faculty and professional staff; federal, state and local government employees; and nurses and other healthcare professionals. In addition, the AFT represents approximately 80,000 early childhood educators and nearly 250,000 retiree members.
The AFT is governed by its elected officers and by delegates to the union's biennial convention, which sets union policy. Elected leaders are President Randi Weingarten, Secretary-Treasurer Lorretta Johnson and Executive Vice President Mary Cathryn Ricker, along with a 42-member executive council.
Many well-known Americans have been AFT members, including John Dewey, Albert Einstein, Hubert Humphrey, Pulitzer Prize-winning author Frank McCourt, Nobel Peace Prize winner Elie Wiesel, former Senate Majority Leader and Ambassador to Japan Mike Mansfield, former Health and Human Services Secretary Donna Shalala, and former United Nations Undersecretary and Nobel Peace Prize winner Ralph Bunche.
---
Do you have any questions? Contact your campus rep here
YCAFT: The voice of part time faculty at Yuba Community College District